Car Rental Jacksonville Airport (JAX)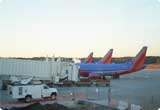 Jacksonville Airport is one of Florida's key airports, and serves both international and domestic destinations. It is 21 kilometers outside of the Jacksonville downtown area. There are also military aircraft that use Jacksonville Airport. There are plans for expansion. The airport code is JAX. Many carriers operate in and out of Jacksonville Airport, including those who only operate on seasonal routes. The main destinations for passenger planes include Atlanta in Georgia, Charlotte in North Carolina, Dallas in Texas, Baltimore in Maryland, Philadelphia in Pennsylvania, Washington DC, Chicago in Illinois, Nashville in Tennessee, New York City in the state of New York, and Florida's Fort Lauderdale.

Unlike some other companies, there are no additional airport fees when you book a rental car with VIP Cars. An advance booking means that you can collect your car as soon as you land and drive away trouble free.