Search and Compare Orlando Airport (MCO)

Car Rental Prices with VIP Cars
---
| | |
| --- | --- |
| Minimum age to rent car in Orlando: | 21-25 years |
| Minimum rental period: | 1 day |
Pick your car rental at Orlando airport and explore Orlando & its world-class attractions – especially its theme parks – on your own schedule and time! With VIP Cars, you can compare deals from all the major rent-a-car companies at one place, in just a few clicks! So, save your money, efforts and time by booking your Orlando Airport car rental with us and start your journey from the airport in the luxury that you deserve!
VIP Cars Booking Process – How to Book your Orlando Airport Car Hire?
1

Search

2

Compare

3

Book
All you have to do is, enter your details like pickup location and dates in the booking form, then compare the best available deals for Orlando Airport related to your search. After running a thorough comparison, reserve the deal that suits your needs by paying a small amount via our secure payment methods.
Alternatively, you can also book your Orlando Airport car rental by connecting our 24/7 booking support via the given helpline numbers or live chat.
Orlando Airport Car
Rental Fleet
VIP Cars is an aggregator which offers a wide fleet of cars from the top suppliers, at one place – its booking engine. The variety is so huge that no matter what your traveling needs are, you will definitely find the deal you are looking for while searching at our booking engine. To make your search even simpler, we offer a couple of filters; using which you can narrow down your search and get better results.
Our wide fleet of updated quality vehicles includes:
Sedans

SUV's

Convertibles

Luxury Cars

Economy compacts

Economy hatchbacks
Orlando Airport Car Hire -
Offered Inclusions
Booking with us is beneficial. Each and every deal we offer carries some 'inclusions'. Depending on the suppliers, these inclusions can be unlimited mileage, roadside assistance, or comprehensive insurances like collision damage waiver and theft insurance.
For these you don't have to pay extra, their prices are already included in the deal's quoted price.
Suppliers Which Offer Orlando Airport Car Hire Deals at VIP Cars
At VIP Cars, we work with several below-listed, well-known car rental suppliers which offer deals for MCO Airport at competitive prices. These VIP Cars' partner suppliers also have their car hire desks at MCO Airport.
Driving Rules in Orlando, Florida
Speed Limit:
The maximum speed limit in Orlando is 60. Make sure that your speed is never more than the maximum limit unless there is a sign which says that you can; the speeding limits on smaller roads is different and is brought into notice via speed signs.
Overtaking:
Overtaking is allowed on the left and sometime from the right in case the vehicle you are overtaking is going to make a left turn. You can't overtake a school bus, and need to stop if the bus has stopped at a bus stop, even if you are travelling in the opposite direction.
Drinking & Driving:
Drunk driving is a major offense, if caught you will be directly put behind bars. Orlando Florida follows zero tolerance law for drivers aged less than 21. In this case, the alcohol limit is .02% and if caught, the driver's license is suspended for six months. The legal alcohol limit for people more than 21 years of age is 0.08% blood alcohol concentration.
Documents that you should carry:
Don't forget to carry your driver's license when driving. Also, do carry your valid ID card as you are expected to have it with you at all times (for instance, police or any other authority person can ask for your ID when using a credit card etc). If a friend or a family member is going to drive at some point, make sure that they are also carrying their driver's license and IDs.
Parking Laws:
Never park on the wrong side of the road especially when you are park in a town street. Also, avoid the corners with kerb markings.
Red Light Laws:
In Florida, turning right during a red light is legal provided the road is not signed with the 'No Right Turn On Red' sign, and the nearside lane is clear.
Lanes:
In Orlando you can drive in any lane on the highways and motorways provided you are following the speed limit. You don't have to switch lanes in case you want to drive faster.
What to Do at the Time of an Accident?
Call 911 to report the accident – irrespective of the fact whether someone is hurt or not – and give them your location; don't leave the place of accident before the arrival of police or highway patrol – it is considered a big offense;
As per the common practice in US, a fire truck will be sent with an ambulance to check whether there is a casualty or not. After making sure everything is under control they will inform you to wait for the highway patrol.
Highway patrol would prove quite helpful as they will complete all the paperwork that you will need to provide at the car rental company.
Basic Information about Orlando international Airport
Orlando International Airport, situated six miles southeast of Orlando, is the busiest airport in Florida in terms of passenger traffic. It is the second-busiest airport in the state of Florida, and serves as an operating base to over 30 domestic and international airlines. These airlines serve over 40 million passengers, annually.
Talking about airlines, MCO airport serves as a hub for Silver Airways and a focus city for several other airlines too, namely Frontier Airlines, JetBlue Airways and Southwest Airlines. Furthermore, the MCO terminal is divided into two sides, with three levels – first level represents arrivals, the second represents departures and the third represents the most dominating part of the terminal- the 'skylight dome'.
| | |
| --- | --- |
| Address: | Orlando Int. Airport, 1 Jeff Fuqua Blvd, Orlando, FL 32827, USA |
| IATA Code: | MCO |
Facilities Available at

Orlando Airport
ATMs and Currency Exchange:

Automatic Teller Machines are available in all the terminal buildings (including the four satellite terminals) whereas currency exchange desks are present only in the main terminal building and on Airside 4.

Food

A prolific range of dine-in options are available at Orlando Airport. Though a majority of them are present in the main terminal building, you'll find a few options in the satellite terminals as well. Amongst all the available options, only McDonald's and Starbucks operate 24 hours a day.

Duty free at MCO & Other Shopping Options:

Shopping outlets present at MCO Airport include fashion boutiques, bookstores, newsagents, gift shops and souvenir retailers. Duty-free shopping is also available to passengers in the airside satellite terminals.
Attractions nearby Orlando International Airport
The following attractions are situated in close proximity to the MCO Airport, something that you can easily explore in your pre-booked car rental. So give a great start to your travel by hitting the road as soon as you land! These are also great picks for travelers who have a long layover.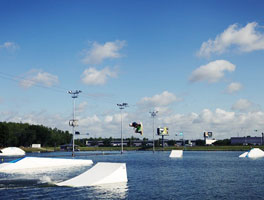 Orlando Watersports Complex
7.6 mi from MCO Airport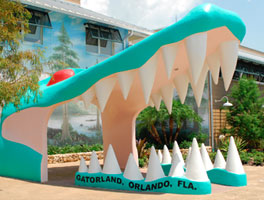 Gatorland
14.5 mi from MCO Airport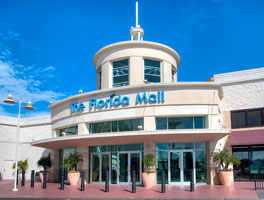 The Florida Mall
7.9 mi from MCO Airport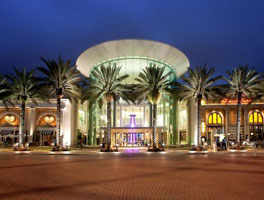 The Mall in Millenia
16.0 mi from MCO Airport
Popular One-ways : Road Trip from

Orlando to New Orleans
Here is a sample itinerary which lists all the worth-visiting places that you can see while driving from Orlando to New Orleans in your MCO Airport car rental.
Day 1
Silver Springs
Orlando to Silver Springs - Driving Distance: 87.4 miles via Florida's Turnpike and I-75 N
Driving time: 1 hr 30 minutes
Things to See in Silver Springs
---
Acorn Park
The Arc
Before and After
A Brushstroke of Discovery
Places to Eat in Silver Springs
---
Copper Canyon Grill
Eggspectation
The Big Greek Cafe
Jennings
Silver Springs to Jennings - Driving Distance: 122.9 miles via I-75 N
Driving time: 1 hr 50 minutes
Things to see in Jennings, Fl
---
Spirit of Suwannee Music Park & Campground
Wild Adventures
Valdosta Museum
Suwannee Historical Museum
Places to Stay in Jennings, Fl
---
North Florida Inn
Quality Inn
Motel 6
Day 2
Tallahassee
Jennings to Tallahassee - Driving distance: 79.3 mi via I-10
Driving Time: 1 h 28 min
Places to See in Tallahassee, Fl
---
Alfred B. Maclay Gardens State Park
San Luis de Apalache
Florida State Capitol
Tallahassee Museum
Unique Places to Eat in Tallahassee, Fl
---
Kool Beanz Cafe
Midtown Caboose
Shula's 347 Grill
Chipley
Tallahassee to Chipley - Driving Distance: 86.0 miles via I-10 W
Driving Time: 1 h 21 min
Places to See in Chipley, Fl
---
South Third Street Historic District
Chipley City Hall
Falling Waters State Park
Washington County Courthouse
Suggested Accommodations in Chipley, Fl
---
Comfort Inn & Suites
Super 8 Chipley
Quality Inn
Day 3
Destin
Chipley to Destin, fl - Driving Distance: 85.3 mi via I-10 W
Driving Time: 1 h 24 min
Places to See in Destin
---
Big Kahuna's
Henderson Beach State Park
Destin History & Fishing Museum
Fort Walton Mound
Places to Eat in Destin
---
The Back Porch
McGuire's Irish Pub
The Crab Trap Destin
Mobile
Destin to Mobile - Driving Distance:107.9 miles via US-98 W and I-10 W
Driving Time: 1 h 52 min
Places to See in Mobile
---
USS Alabama (BB-60)
Mobile Carnival Museum
Mobile Museum of Art
Old City Hall
Places to Stay in Mobile
---
Wingate by Wyndham Mobile
Candlewood Suites Mobile-Downtown
Drury Inn Mobile
Day 4
Biloxi
Mobile to Biloxi - Driving time: 59 min
Driving Distance: 62.7 miles via I-10 W
Places to See in Biloxi
---
Beau Rivage
Maritime & Seafood Industry Museum
Jefferson Davis Presidential Library and Museum
Ohr-O'Keefe Museum Of Art
Places to Eat in Biloxi
---
Half Shell Oyster House
Bubba Gump Shrimp Co.
Mugshots Grill & Bar
New Orleans
Biloxi to New Orleans - Driving time: 1 h 30 min
Driving Distance: 92.4 miles via I-10 W
Things to See in New Orleans
---
Jackson Square
Aquarium of the Americas
Bourbon Street
Audubon Zoo
Suggested Eating and Stay Venues
---
Eat at Café du Monde
Stay at Hotel Monteleone
Frequently Asked Questions?