Car Rental Miami Port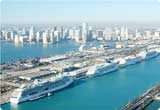 Miami Port has been the busiest port in the world for over two decades. It sees passengers arriving to visit the many great attractions in and near Florida's Miami. Whether beaches are your thing, you fancy some shopping, you want to dance the night away, or go alligator spotting in the Everglades, Miami has it all, and much, much more.

There are great passenger facilities near Miami Port. VIP Cars offers easy and economical car rental pick up at Miami Port through leading suppliers in the State. A prior booking guarantees you the car of your choice, and there are various vehicles to choose between. Luxury cars and economy models are available, as well as everything in between. Whether it is you only, or you and your family, the ideal car is available, and at great low prices suitable for every budget.