Book a low-cost rental car for Boston Airport today!
---
Search and compare the best car hire deals for Boston Airport on VIP Cars, a one-stop destination to online book the cheapest car rental for Logan International Airport. Leveraging our mutually rewarding alliance with the US' top car rental companies, including Alamo Rent a Car, Dollar, Dollar Tour, Enterprise, Europcar, National, and Thrifty Tour, we let you online book an economically priced car hire deal for Boston Airport in just three quick steps.
Besides giving you the freedom to choose a vehicle of your choice from a large pool of compacts, intermediates, vans, SUVs, and luxury car rental for Boston Airport, we let you pre-book your Boston Logan International Airport car rental much in advance, free of cost, and right from the comfort of your home. What's more! You can cancel your BOS Airport car hire deal 24 hours before the pick-up time without paying any cancellation charges.
Information on Boston Logan Airport
One of the largest airports in the United States, Boston Airport, also known as Logan International Airport, is located in the East Boston neighborhood. With more than 30 million passengers crossing through BOS Airport's terminals every year, General Edward Lawrence Logan International, the official name of Boston Logan Airport, ranks among the world's busiest commercial aviation hubs.
Catering to more than 50 domestic as well as international air carriers, Boston Airport offers direct flight connectivity to several destinations spread across North America, Central America, Europe, Asia, and the Middle East. Travelers in large number prefer to pick-up a rental car from Boston Airport to reach Harvard University and other cities of Massachusetts, New Hampshire, and Connecticut.
| | |
| --- | --- |
| Address: | Logan International Airport, 1 Harborside Dr, Boston, MA 02128, USA |
| IATA Code: | BOS |
Boston Logan Airport Terminals
Logan International Airport consists of 102 gates, which are dispersed across 4 passenger terminals namely, A, B, C & E. All the terminals are connected by moving walkways and shuttle buses.
Terminal A
Divided into a satellite building and the main terminal, Terminal A comprises of two levels – Level 1 & Level 2, dedicated to 'Arrivals' and 'Departures' respectively. An underground walkway connects the satellite building and main terminal.
Primarily catering to WestJet, Southwest, and Delta airlines, Terminal A offers currency exchange counters, banks, and several eating outlets. Linked to the Central Parking facility, Terminal A also features airport shuttle service and direct accessibility to Logan Airport Rental Car Center.
Terminal B
Serving as an operational hub for Air Canada, PenAir, and American Airlines, Terminal B has more than 30 gates linked by walkways. As it goes with other passenger terminals, Logan Airport Terminal B offers an array of passenger facilities such as rest lounges, ATMs, currency exchange counters, smoking rooms, and snack bars among others.
In addition, passengers are also provided with an easy access to free shuttles service.
Terminal C
Exclusively catering to Alaska Airlines, JetBlue, Aer Lingus, Cape Air, TAP Portugal, Emirates, and Virgin America, the Terminal C consists of more than twenty gates. Besides regular passenger facilities such as rest rooms, eateries, currency exchange counters, ATMs, and play area for children, Terminal C also houses Our Lady of the Airway Chapel.
Arrivals Level hosts a number of ground transportation services, including Rental Car Center, chartered buses, and airport shuttles among others.
Terminal E
Serving as international terminal at Boston Logan Airport, the Terminal E, also famous as John A. Volpe Terminal, consists of twelve gates. Following a massive revamp, the terminal has been recently upgraded to accommodate Airbus A380 as well as all the international arrivals.
Car parking at
Boston Logan Airport
Connected with a covered moving walkway from all the terminals, the central parking garage at Logan International Airport offers several car parking options, including short-term, extended, economy as well as premium. Additional car parking space is also available at Terminal B and Terminal C.
Hotels at
Boston Logan Airport
As both Hyatt Hotels Corporation and Hilton Hotels & Resorts operate hotels near BOS Terminal A on airport grounds, it's a convenient option for travelers looking forward to staying close to the airport.
Shopping at Boston Airport
Boston Logan International features a massive retail space that is home to a number of shops engaged in selling a wide range of products. We present you with the names of leading shopping outlets scattered across all the passenger terminals.
NewsLink
The retail store sells a variety of newspapers, magazines, best-selling books, and snacks.
IS Duty-Free
The duty-free merchandise store sells a wide range of cosmetic goods and beauty products.
Johnston & Murphy
The famous apparel chain store stocks a huge collection of designer clothes for men and women.
Hudson
The retail store stocks a collection of newspapers, magazines, books, and travel accessories.
IS Duty-Free
The duty-free merchandise retailer sells a wide range of cosmetic products and beauty solutions.
Swatch
The premium chain store showcases a selection of high-quality jewelry products and watches.
Travel + Leisure
The popular retail chain sells a variety of newspapers, books, apparels, and electronic goods.
Duty-Free Store
The duty-free store is engaged in selling a wide range of cosmetic and travel essential goods.
iStore Boutique
The famous electronics store sells adapters, chargers, connecting cables, and other accessories.
Hudson
The retail store stocks a collection of newspapers, magazines, books, and other travel accessories.
Montblanc
The airport retail shop is known for its high-quality writing accessories and fine jewelry items.
Hugo Boss
The world-famous fashion apparel store sells a wide range of clothes and leather accessories.
Dining at Boston Airport
Whether you want to sip a cup of coffee or enjoy a fresh Mediterranean breakfast or dinner, Boston Airport lets you find a place of your choice in no time. Check out the names of leading eating joints at BOS Airport terminals.
Dunkin Donuts
The popular eating joint serves a variety of bakery products in addition to coffee and other drinks.
Wendy's
The one-stop destination for all American snacks, breakfast, lunch, dinner, and beverages.
Vino Volo
The restaurant serves freshly prepared lunch and dinner alongside a variety of alcoholic drinks.
Starbucks
The all-time favorite cafe serves delicious bakery snacks and a variety of hot and cold beverages.
McDonald's
The renowned fast-food retail chain serves hamburgers, crisp fries, wraps, salads, and beverages.
Berkshire Farms Market
The grab-and-go food outlet specializes in the preparation of gluten-free food items and snacks.
Burger King
The fast-food joint is best known for its wide variety of burgers, wraps, fries, and cold beverages.
Camden food co.
The restaurant is known for its vegetarian as well as a gluten-free menu that is prepared fresh.
Wolfgang Puck
The restaurant's menu includes a wide variety of vegetarian and gluten-free dishes to choose from.
Dine Boston Cafe
The cafe is known for its espresso coffee, bakery products, and a wide range of breakfast options.
Vineyard Grille
A perfect place if you're planning to eat lunch or dinner. The place also serves alcoholic beverages.
Sbarro
The well-known Italian restaurant chain is known for its gluten-free breakfast and lunch dishes.
Lounges at Boston Airport
Besides enjoying shopping and eating at your favorite food outlet, you can sit back relaxed in any of the following lounges. Featuring all the latest passenger amenities, the lounges are accessible via lounge passes, membership programs, or by paying at the door.
Things to do at Boston Airport
If the idea of checking into an airport hotel does not appeal to you, given below are the other options that you may consider to plan your layover stay at BOS Airport.
Visit 9/11 Outdoor Memorial
Located near the airport Hilton Hotel, the memorial honors the crew members and passengers of the United Airlines Flight 175 and American Airlines Flight 11, the two airplanes that left BOS Airport for Los Angeles, but never made it to their destination.
Explore playgrounds and artwork
Popularly known as Kidport, the playgrounds are located in terminals A, B, and C. Play a game or simply relax in a stress-free environment. As BOS Airport also features a unique public art program, you can watch an engaging exhibit at any of the terminals.
Get a rejuvenating massage
Boston Logan's spa and salon services will let you rejuvenate your senses during your layover at the airport. XpresSpa located in Terminal B and Classique Hair and Nail Salon and Jet Setter Mini Spa in Terminal C are definitely worth your time and money.
Boston Airport Rental Car Center
---
Spread across a massive 120,000 sq ft, General Edward Lawrence Logan International Airport rental car center offers parking space for more than 3,000 rental cars, proportionately allocated across its 4 levels. As the consolidated rental car center is connected to all the terminals through a unified bus system, you can easily reach the facility in few minutes.
However, as the rental car center experiences crowd, an online car hire reservation for BOS Airport car save your time and effort.
Which are the other car hire locations in Boston?
Be it one-way car rental from Boston Airport or dropping your car at some other drop-off location within Boston, VIP Cars not only covers Massachusetts, but also the adjoining states. Reinforcing our commitment to making your BOS Airport car hire experience hassle-free, we offer 5 more rental car drop-off locations in Boston.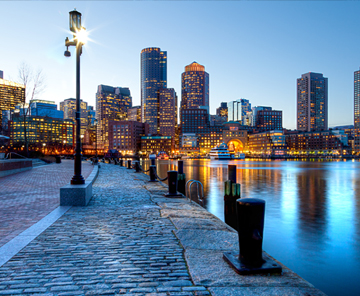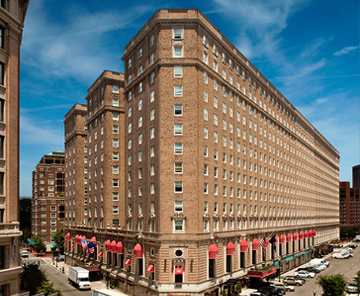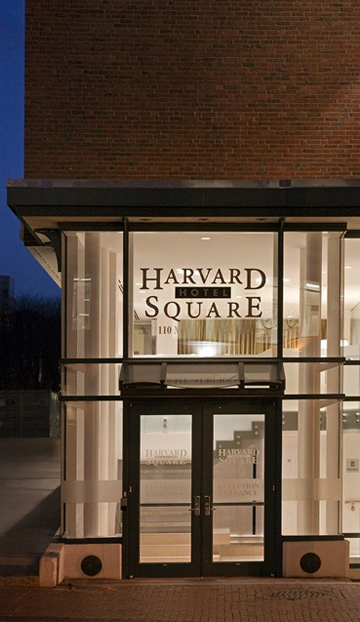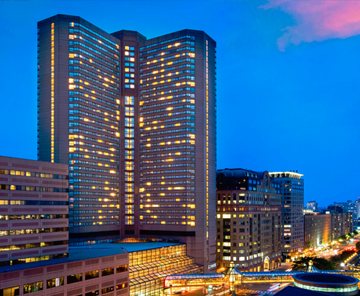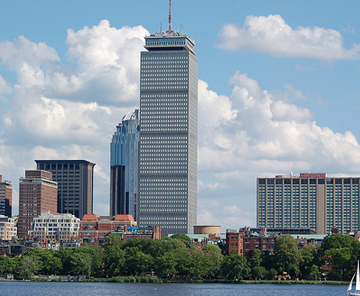 Explore Boston in style with your BOS Airport car hire
Known for its forward-thinking society, glorious history, and renowned academic institutions, Boston, the capital of Massachusetts, is one of the oldest cities in the United States. Besides being a repository of historical sites and an enthralling cultural wealth, the city is also famous for its vibrant events. Of course, a rental car from Logan International is the ideal way to explore a city that has been credited with playing an instrumental role in American independence. Check out the list of Boston's leading tourist attractions:
Freedom Trail

Downtown Boston

Taking you on an insightful tour that passes through sixteen important locations with respect to American independence, the Freedom Trail covers about 2.5 miles exclusively in Downtown Boston. Historic points on its way include – graveyards, ground markers, buildings, churches, and a naval frigate.

Faneuil Hall

4 S Market St, Boston, MA 02109

Colloquially known as the Cradle of Liberty, the Faneuil Hall is another historic point whose origin dates back to 1743. Forming the part of Boston National Historic Park, the Faneuil Hall attracts hundreds of thousands of inquisitive tourists. The meeting hall is notable for grasshopper weather vane and a massive bell.

New England Aquarium

1 Central Wharf, Boston, MA 02110

Home to nearly 20,000 animals, the New England Aquarium is one of its kind in North America. Featuring one of the world's largest ocean tanks, the aquarium showcases several exhibits dedicated to various species of aquatic animals. Besides its main aquarium complex, the place includes the world-famous Whale Watch Show and the Simons IMAX Theater.

Boston Common

139 Tremont St, Boston, MA 02111

One of the largest and oldest city parks in the United States, Boston Common is spread across 50 acres. Forming part of the Emerald Necklace, Boston Common is famous for its notable landmarks such as Beacon Hill, Freedom Trail's southern end, softball fields, Christmas Tree, and the Central Burial Ground.

Museum of Fine Arts

465 Huntington Ave, Boston, MA 02115

Boasting of a staggering collection of more than 450, 000 artworks, the Museum of Fine Arts ranks among US' most visited attractions. Founded in 1870, the museums' exhibits include – Egyptian artifacts, French post-impressionist and impressionist works, American art, Chinese paintings, imperial Chinese art, and Japanese pottery.
Interested in planning a road trip from Boston?
Why not drive beyond the city's boundaries and discover something extraordinary? Once you have Logan International Airport car hire of your choice, driving becomes sheer fun. We have handpicked the best road trip destinations that you can comfortably cover in your BOS Airport rental car.
Boston – Peaks Island
116 miles via I-95 N
One of the best summer holiday destinations in Maine, you can drive to Peaks Island in less than 3 hours from Boston. Previously known as Coney Island, and despite being small in size, Peaks Island continues to attract tourists due to its beautiful cottages and amusement parks.
Worth seeing attractions include – Umbrella Cover Museum, Gem Theater, and the Fifth Maine Regiment Museum. Factor in more time if you also plan to enjoy some popular water sports.
Boston – Stowe
200 miles via I-93 N and I-89 N
Famed for its beautiful hiking trails, Stowe is a small town in Vermont's Lamoille County. The Pinnacle Hiking Trail in Stowe Hollow and the Stowe Recreation Path are must-visit places, in addition to Trapp Family Lodge, Vermont Ski and Snowboard Museum, and Stowe Mountain Resort.
The town also plays host to several theatrical productions, shows, and festivals in summer, with the balloon festival and British Invasion Event leading the brigade.
Boston – Lake Champlain
259 miles via I-89 N
A happening tourism hot spot of summer, driving to Lake Champlain is just like getting refreshed after gulping a glass of cool water in the blistering sun. Whether you prefer to relax on the shore or plan to get into the water, you will experience an unending spell of bliss surrounding your every activity.
As the lake plays host to several fishing tournaments, the place never goes out of action. Escape to nearby mountain trails to enjoy a breathtaking adventure.
Boston – Craftsbury
206 miles via I-93 N
A beautiful town in Vermont's Orleans County, Craftsbury is a perfect destination for spending a weekend. The town is famous for its Craftsbury Outdoor Center, a place featuring Nordic skiing trails that cover more than 50 miles.
Craftsbury Sculling Center, one of the oldest one in the United States, is also a prominent tourist attraction. If spending time amid calm surroundings has been on your mind, drive to Craftsbury Outdoor Center, a place known for its placid lake and refreshing farmlands.
Boston – Charlemont
112 miles via MA-2 W
Drive past the maddening traffic rush to reach the sublime town of Charlemont in Franklin County. Known for its reinvigorating environment, Charlemont is a popular resort destination. A true paradise for nature lovers, the town offers a wide variety of outdoor activities such as Alpine skiing, outdoor camping, hiking, water rafting, and mountain biking.
You can also visit Mohawk Park, a beautiful roadside garden that is home to the Hail To The Sunrise Statue, a monument dedicated to region's native Americans.
Boston – Rockport
40 miles via US-1 N and MA-128 N
Another peaceful holiday destination in Massachusetts, Rockport can be reached within a one-hour drive from Boston. You'll be amazed to roam around innumerable art galleries, seaside restaurants, shops, and picturesque beaches.
Besides enjoying the larger than life ocean views, you can also try a variety of abundantly available seafood. Don't forget to plan a visit to the Paper House, while you're at Rockport. Exclusively made of newspapers, the Paper House is a vintage attraction that has been in existence since 1922.
Boston Logan Airport car hire tips
As Downtown Boston is located just 4 miles southwest of Boston Airport, you will not take more than 15 minutes to reach the city center via MA-1A S.
Take the Callahan/Summer Tunnel (US-1A) & the Ted William Tunnel (I-90 Interstate) if Boston happens to be your first stop after starting from the airport.
Include a GPS navigation system into your Logan Airport car hire deal for hassle-free maneuverability, while navigating the web of roads and interchanges across Boston.
Book your rental car for BOS Airport as early as possible to grab the best deal on a car-type of your choice.