Car Rental Banja Luka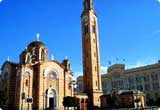 Banja Luka is the second largest city located within Bosnia and Herzegovina. It is a charming little city filled with tree-lined parks, gardens, boulevards and avenues. Thus in order to appreciate these charming tree lined sceneries you must have a rental car.

Because of the long history that this city has, it is culturally rich and boasts of several museums within the city. Sightseeing in Banja Luka includes Museum of BosanskaKrajina which was established in 1930, Museum of Modern Art of RepublikaSrpska, Halls of Ban which is the home of legendary VrbasBanovina and Kastel fortress ruins. Other beautiful nature spots are: waterfalls, thermal springs, spas and pools. Book your car rental with us and get unlimited dmileage, 24/7 booking support and more.