Car Rental Chile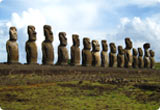 Save big on your travel budget by renting a car in Chile. Our large fleet of vehicles and car rental deals for Chile ranges from economy to sedans, fulfilling diverse traveling needs of leisure tourists as well as elite business clients.

Chile

Constitutional republic located in South America, Chile is known for its thin shape which has given the country a varied climate and diverse landscape such as dry deserts, rich forest lands, glaciers, soil rich valleys along with many volcanoes and natural lakes. 

Arturo Merino Benitez Int'l Airport, the busiest airport in Chile and, has flights to destinations across North and South America, Europe and Australia. Santiago is the capital and most cosmopolitan city here. One can also visit the mysterious Easter Islands, which attract tourist from all over the world, who come to see the famous Moai statues.

Best Places in Chile

From UNSECO World Heritage Sites, music festivals, beaches, casinos, volcanoes, lakes, ski resorts to breathtaking view of South Pacific Oceans, Chile has so much to offer. 

A car rental in Chile makes it easy to explore all its regions along with destinations like Villarrica, Western Patagonia, Robinson Crusoe Island Los Pingüinos Natural Monument, Chiloe, Cerro San Cristóbal, Valparaiso, Valle de la Luna, Torres Del Paine, Pucon, and more.

Using a rental car enables you to explore all areas of Chile, including the beautiful ones unapproachable via any public transport. Some such areas include the sandy beaches of locations such as  Antofagasta, Coquimbo, Copiapó and La Serena.

There is a lot you can shop for in Chile. While Santiago is famous for housing luxury boutiques and branded goods, other small towns are famous for selling handicrafts and souvenirs such as wooden items, liquors, jams, preserves and semi precious stone jewelry.

Renting a Car in Chile

A car is the most convenient and economical way to travel due to the low car rental prices in Chile. The country's well maintained roadway network makes it extremely easy for foreigners to drive here. In Chile, you can rent a car equipped with a GPS device, facilitating driving ease around cities and as well as densely forested areas.

Use our ultra responsive booking engine to compare deals powered by leading suppliers such as; Alamo, Europcar and Econorent. Enjoy throughout your journey as our car rental deals in Chile are free from any hidden costs! Complete your booking process in just three easy steps!