Car Rental Los Angeles Downtown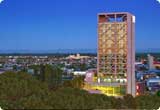 Los Angeles downtown is a sleepy town with nothing much to do. Most people who come to Los Angeles Downtown stay for the night and head out to the neighboring natural attractions the next day. The first spot to check near Los Angeles downtown is the Laguna del Laja National Park. It is home to several natural attractions like Laguna delLaja, Sierra Velluda and the Antuco Volcano. Things to do within these regions are: fishing, skiing, trekking and mountain climbing. You have to remember that this is a rugged terrain so be well-prepared physically for these activities.

Another great natural attraction near Los Angeles downtown is the majestic Laja Falls. It consists of four different U-shaped waterfalls. A narrow canyon beneath the falls is the perfect spot to relish the view.
All of these spots can only be reached with a car and we recommend hiring from VIPcars.com. At VIP cars, we offer affordable rates and an all-inclusive price.