Car Rental Santiago Downtown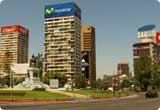 Santiago Downtown is the center of the bustling capital of Chile – Santiago de Chile. The downtown area of Santiago is characterized with many commercial establishments. In fact, there are many shopping districts in the area and the city's center is considered as the shopping capital of the country.

The affluent streets in downtown Santiago include Alonso de Cordova, Las Condes and Vitacura. These places also have exclusive shopping stores as well as posh restaurants, wineries and art galleries.
You can also check out Santiago Downtown's landmarks. ParqueMetropolitano is a huge park that boasts of swimming pools, zoo, botanical garden and a cable car ride.

Santiago Downtown is best explored if you have cars booked online at VIPcars.com. We let you book online in advance, while you enjoy access to best rental prices.