Car Rental Punta Arenas Downtown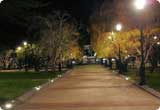 Located at the heart of Punta Arenas in Chile, Punta Arenas Downtown lies north from the Strait of Magellan. The downtown area started as a small penal colony in the late 1800s and became a bustling city afterwards.

Punta Arenas Downtown serves as the jump off point to those who want to access the Antarctic Peninsula. In fact, there are several tour operators who offer sightseeing cruises in Antarctica. On the other hand, the downtown area also boasts of its many tourists attractions which include the Nao Victoria Museum where a replica of Magellan's Ship – the first to circumnavigate the world – is found. And to satiate your appetite come to Cyrano Café for local pastries and chocolate drink.

The interesting places in Punta Arenas Downtown are easily accessible via cars from VIPcars.com. At VIP Cars, we provide a wide selection of vehicles to choose from to match your traveling preference.