Car Rental Cork Downtown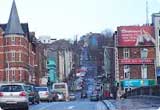 Cork is not just a town that has a simple lifestyle, but it has so much to offer: cafés, art galleries, museums; name it and they got it. With a rich history as theirs, they have many stories to tell.
Cork's proud scenic spot; Ballycotton Cliff Walk is not known to many local Iris folk but then the views that you will see are breath-taking. You will get to see a wonderful spot for picnic with your friends or your family and you can enjoy the view, food and good company. You can also see the majestic view of the Celtic Sea; it is indeed a perfect photo opportunity for both photographers and tourists alike.

Car rental at Cork Downtown means easy access to its local sights as well as other key places of the Cork city. Book a car now!