Car Rental Athlone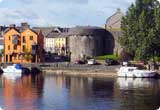 Athlone is a town in Ireland that is part of the Midlands Region. The Athlone Castle is one of the iconic infrastructures of Athlone; it was said that it was built in the year 1129 and was a wooden structure. It became a stone castle in 1210 and is today a popular attraction in the region. It has officer's quarters, soldier's quarters, ablution's room, and many more. It is also a museum run by "Old Athlone Society."
One way to go around town is through VIP Cars. We have the widest selection of rental cars: mini, economy, sports, compact, sedans and SUVs are included in our fleet of cars. VIPcars.com also have an all-inclusive pricing package and low price guarantee.

Athlone is a perfect place to unwind and create unforgettable memories with your family or with your friends.