Car Rental Dublin City Centre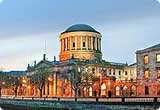 Dublin is the home of one of Europe's richest cultural city. It is located in Ireland and boasts of belonging in the world's top 30 cities. Not only that, it also has a very active nightlife especially in the Dublin Centre, what with it being reputed as one of Europe's most youthful cities.
In the Dublin Centre, there are many pubs spread across. The most popular are located in Harcourt Street and Wexford Street. The city centre is also a popular shopping district. It is the location of well-known department stores like Arnotts, Brown Thomas and Clerys. There are also plenty of monuments to see. And don't forget to have lunch at Idlewilde Café which is an excellent spot to rub shoulders with local celebrities.
To make the most of your stay in Dublin book a car rental from VIP cars now!