Car Rental Sligo Downtown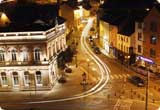 Sligo Downtown is found within the County of Sligo at the North West part of Ireland. Although it used to be a sleepy coastal town, but due to redevelopment of the area it has attracted plenty of local travelers and tourists alike. If you are out to visit Sligo Downtown we suggest that you make online car rental bookings at VIPcars.com. With a car rental you can get to nearby Sligo Downtown historic places that will make your trip memorable.

Start your Sligo Downtown tour with a light meal at Café Mauds. We suggest that you order their award winning ice cream, crepes, coffee and sandwiches.
Then a few miles away from Sligo Downtown is Carrowmore which showcases a Neolithic era ritual site. You can see remains of stone age food preparation process and the remains of seashells in the area.