Car Rental Naas Downtown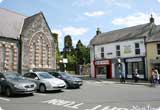 For those who think Naas is just a small town with no appeal at all, you're in for a big surprise. Located in County Kildare of Ireland, this town does have a lot to offer, especially Naas downtown.
Naas downtown also has two major nightclubs for travelers looking for decent nightlife. If you're more into sports, then this town won't disappoint what with the numerous clubs at your disposal. Or you could always go to the swimming pool and leisure center. There's also the old swimming pool which has now been turned into a public car park. Take your pick.

A low priced Naas Downtown rental deal, when booked with us, comes all inclusive of taxes and insurances like Road Fund Tax, VAT, CDW and more.