Car Rental Donegal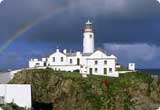 Located in the province of Ulster, Donegal is a county in Ireland. The town has a distinct cultural identity of its own. Donegal Castle is a former seat of the O'Donnell clan and it means Fort of the Foreigner.

Because the fortress has been destroyed, it cannot be determined when this was built. It was in ruins for the last two centuries and got fully restored in the late 1990's. It has a Jacobean style wing, which means it is made of many columns and pilasters, round-arch arcades, and flat roofs with openwork parapets.

You can explore all these beautiful sights in Donegal, and many more, by hiring a car for all your commuting needs. VIP Cars offers deals at highly reasonable rates in addition to a range of rental inclusions. Hurry and book today!