Car Rental Kaunas Downtown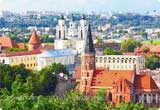 The bustling Kaunas Downtown area is one of the city's liveliest and most visited areas. Near to many of the local attractions, Kaunas Downtown area is bursting with great hotels. Accommodation may be a bit pricier though than in other areas of the city.
Regardless of where you choose to stay, however, VIP Cars provides you with a great car rental package to explore Kaunas. A beautiful European city, Kaunas is famous for being a centre of history, culture and the arts. It also has a booming industrial sector. You will find a tremendous blend of old and modern buildings in Kaunas Downtown. It is a fabulous area to walk around by day or by night; at night the lit buildings look especially magical. The night entertainment scene is very alive in Kaunas Downtown, and there is a lot of fun to be had.

Book your car now!