Car Rental Kaunas Train Station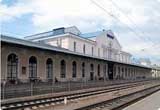 With its dazzling white facade, Kaunas Train Station is one of the city's busiest public transport centres. Towards the eastern part of the heart of the city, the modern train station stands on the same ground as the former train station that was destroyed by German bombings in 1944. It is classed as one of Kaunas' cultural buildings and heritage sites.

With a range of hire cars available to collect directly from Kaunas Train Station, there is no need to venture further into town upon arriving at the train station. You can collect your car from right outside the train station and take yourself to wherever you want to go next. VIP Cars provide bookings on behalf of many reputed car hire companies.