Car Rental Vilnius Train Station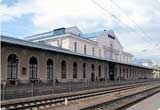 Vilnius Train Station connects with all major cities across Lithuania, as well as some international locations. A regular train service runs between Vilnius and St Petersburg in Russia, as well as between Vilnius and Minsk in Belarus, for example. A little south of the main city centre the main Vilnius Train Station is nonetheless easy to get to and from.

Visitors flock to Vilnius to soak up the cultural and historical charms as well as experience the vibrant night-life. VIP Cars presents economical rental deals for travellers arriving at Vilnius Train Station. Inclusive packages, easy online booking , 24 hour customer booking support, basic insurances and affordable competitive prices make VIP Cars a number one choice for car rental from Vilnius Train Station.