Car Rental Kaunas Hotels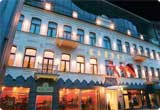 Kaunas Hotels can range between the cheaper, smaller rooms often more suited to solo travellers and groups of friends, mid-range options often favoured by business travellers and families, super stylish boutique hotels usually preferred by couples on a romantic getaway to executive guests who simply want to lavish themselves with a bit of indulgence.

Hotels are available across all areas of the city, although the downtown area is usually more expensive than the outer areas. Kaunas old town is usually a good option for finding cheaper rooms and hotels. Facilities in hotels vary according to price brackets, but all Kaunas Hotels are in good locations to get out and see different parts of the city. All hotels are within easy reach of a convenient rental car pick up point too. VIP Cars can arrange rentals all over the Kaunas area, so regardless of where you stay you will have
no hassle collecting your car.