Car Rental Palanga Airport (PLQ)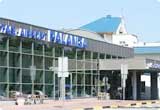 Providing access to Lithuania's premier summer beach resort, Palanga Airport is both an international and domestic airport. It is quite near to the main part of Palanga. A hire car is the best way to get around the small area of Palanga and enjoy a taste of the different beaches reaching along the Baltic Coast.

The town has a real resort atmosphere that keeps visitors coming back time and time again, as well as providing glowing recommendations to their friends and family. A rented car from VIP Cars also allows visitors to enjoy the nearby city of Klaipeda. Relaxing beach days can be interspersed with cultural excursions and active adventures and more of Lithuania's fascinating towns and picturesque scenery can be admired. A hire car need not add so much to the cost of your holiday, and in terms of time spent trying to get to other places and the cost of public transport, could indeed turn out to be a great temporary investment.