Car Rental Vilnius Hotels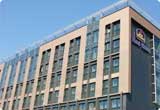 Lithuania's capital city is awash with places to stay. Whether you plan on staying for a few nights, a few weeks or even longer, there is an outstanding selection of Vilnius Hotels. Prices can vary considerably, and some areas are definitely pricier than others. The downtown area of Vilnius is a fair bit more expensive than other areas. With a bit of careful planning, it is possible to find the perfect place to stay.

If you're looking for a romantic hideaway, you've got it. Perhaps you will visit in a group and your main priority is having a cheaper place to crash for a few hours here and there; again, you've got it. All tastes and budgets are catered for. And with car rental available from VIP Cars across the city, no matter where you decide on staying you can take full advantage of the great online booking deals.