Car Rental Becici (All Areas)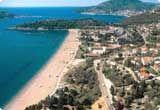 We provide travelers visiting Bečići high quality car rental deals. Bečići is a town located on Montenegro's Adriatic coast. Located close to the historic city of Budva, this town is primarily a tourist resort and mostly consists of medium sized and large hotels. Our unique deals help travelers get a variety of free inclusions along a choice of vehicle from our large and varied fleet. So, book now and get exclusive car rental deals in Bečići.

This town has a very laid-back feel to it and is a popular place for tourists with families. Considered to be one of the most beautiful beaches in Europe, Bečići beach offers tourists facilities for many beach activities including water-sports. The beach promenade here has a number of restaurants, bars and cafes lining it.

So, have a memorable commuting experience in Bečići by hiring a rental car from us.