Car Rental Budva (All Areas)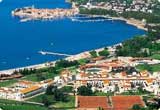 We provide travelers visiting Budva with high quality car rental deals. Budva is a coastal town located on the Adriatic coast of Montenegro. One of the oldest cities in the country, Budva is known for its Mediterranean architecture, sandy beaches and diverse nightlife and is the most visited tourist resort in Montenegro. So, book now and avail of affordable car rental deals in Budva.

The Old Town of Budva was located on an island that was joined by a sandbar and has now turned into a peninsula. It has a medieval fortification system with walls, gates and towers. Mogren Beach is the most famous beach here and is nestled between two cliffs. Richard's Head and Pizana are the other popular beaches here. The nightlife of this city is quite vibrant and varied and offers many varieties of music.

So, contact us now and get car rental deals in Budva.