Car Rental Petrovac (All Areas)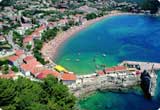 VIP Cars helps travelers visiting Petrovac with high quality car rental deals. Petrovac is a coastal town located in Montenegro and is known for its sandy beaches. This town is a part of the Budva municipality and is located on the Adriatic Coast. This town is characterized by its many bays, popular hotels and sunny climes. So, book now and in a few easy steps get attractive online deals in Petrovac.

This resort town is very popular with families who come predominantly from Serbia and Montenegro. It has a 16th century Venetian fortress called Kastel Lastva in it, along with remains of a Roman bath and Villa. Drobni Pjesak, Lucice and Buljarica are the popular beaches located here, and there is also facility for fitting sailboats and yachts here.

Enjoy a pleasant stay in Petrovac while booking an online car rental deals from us in Petrovac.