Car Rental Budva Downtown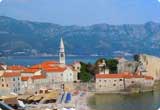 Budva Downtown has seen great development over the years because of the town's popularity and the droves of tourists who visit every year.

Facilities for tourists are excellent, with a terrific selection of hotels, restaurants, cafes, bars, discos and other leisure activities. Budva Downtown is within a stone's throw from the excellent and popular beaches, and a convenient distance to the splendid medieval old town.

We, through our rental partners, provide a wide range of rental cars at competitive low prices in Budva Downtown. See with your own eyes why this area is so popular and truly appreciate Budva Downtown and its many excellent neighbours. Hire now!