Car Rental Alkmaar Downtown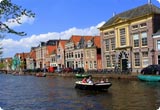 One of the bubbliest spots of the city, Alkmaar Downtown has been fascinating tourists for several decades. While old medieval buildings and as well as monuments are a plenty, you would love to see the legendary Dutch cheese marketplace, which is organized on the Fridays. One of the oldest surviving traditional Dutch cheese markets, the place attracts locals as well as tourists in large numbers. Although variety of local cheeses is present in the market, you can't buy one, as the place is an exposition of the conventional Dutch cheese making processes. Nevertheless, there are other specialized cheese selling counters that offer all the available cheese varieties at affordable prices.

Explore the Alkmaar Downtown in a rental car of your choice! Book one today from VIP Cars!