Car Rental Romania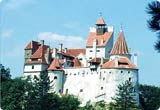 Romania is an east-central European country and a semi-presidential republic. Romania offers scenic mountain landscapes, rich cultural heritage, and great natural beauty has recently seen stable economic growth. The Casino in Constanta is an incredible piece of Art Nouveau Architecture.

Henri Coanda (Otopeni) Airport and the Traian Vuia Int'l Airport are the main airports in Romania. Bucharest is the most visited city and offer plenty of attractions. Transylvania is most well-known region of the country and one can visit many medieval castles along with exploring the legend of Count Dracula. During winter, the skiing resorts beside the Poiana Brasov and Valea Prahovei are popular with foreign visitors.

Enjoy a memorable commuting experience with a car rental service from us, as you select from popular pick up locations including Bucharest, Arad, Bacau, Timisoara and their airports. Book now!