Car Rental Timisoara Airport (TSR)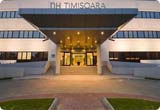 Timisoara Airport is the second biggest airport within the country of Romania. It is also known as Traian Vuia Airport or Giarmata Airport. Once you arrive here, you can check in at Casa Leone for a clean and comfortable place to stay, that too at a highly affordable price. Coming here is easy especially if you have a VIP cars rental. You can easily and quickly book one online at VIPcars.com.

After settling down at your hotel you can begin your tour of the city of Timisoara at the Victory Square. The square commemorates the Romanian revolution and is situated close to many city attractions. After checking out the square, head on to nearby sites like the beautiful palaces. Learn more about the city's history at Banat Museum and check out the Opera House and the Metropolitan Orthodox Cathedral.

Call us now to know more!