Car Rental Bucharest Intercontinental Hotel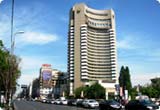 Luxury – that is what Bucharest Intercontinental Hotel is all about. It provides the best of everything for its clients: best view of the city, best amenities, best service by the staff, and lots more. Facilities include: fast-speed internet connection, executive suites, and friendly concierge and reception assistance.

Cismigiu Gardens is located at the heart of Bucharest. It is 17 hectares in area, and the largest park in the city. It was a popular fishing site in the 17th century. In the present day, you will get to see different plants and flowers that were planted since 1843. It is a beautiful place to relax and be in, away from the busy life of the city.

VIP Cars is a leading car rental broker that provides great deals for Bucharest Intercontinental Hotel. Call us now and book your car hire to avoid last-minute hassles!