Car Rental Suceava Airport (SCV)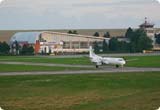 Suceava Airport, also known as Suceava "Stefan cel Mare' Airport, is just 12 kms away from the city of Suceava. Plenty of tourists come to the city to explore its rich history and cultural heritage.

From Suceava Airport head down to Irene's Hostel for budget accommodation that is clean and comfortable as well. Have rest and then head out to Suceava fortress which is the city's topmost attraction. From the fortress' top you can have an amazing view of the city side. Also, do not miss the painted monasteries in the area. The Mirauti Church, built during which the 1390s, and the Church of Saint George, with its awesomely painted frescoes, are a tourist's delight.

All these places are easy to reach through a car rental. You can quickly and easily book online at VIPcars.com. Hurry and call us to know more!