Car Rental Brasov Downtown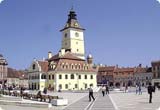 Brasov is a city in Romania known for being a great starting point for eager tourists. It is the capital of Brasov County and located in the central part of Romania.

Brasov downtown in particular, offers an array of activities for tourists. It is home to many hotels that accommodate tourists, and famous restaurants like Keller - steak house, and Paradis by Carmolimp, which serves authentic Romanian dishes. There are also stores to buy souvenirs from. Near Brasov downtown you would be able to see Bran Castle and Vlad the Impaler's old residence from Bram Stoker's novel.

We at VIP cars offer you low-priced car rentals for Brasov Downtown. We are associated with the biggest rental suppliers and can provide you with all-inclusive price packages that would suit your needs. Hurry and book now!