Car Rental Spain - Canary Islands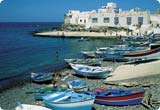 Canary Islands are a Spanish archipelago off the northwest coast of Africa, and are known for their beaches, subtropical climate and natural beauty.
Gran Canaria Airport, Tenerife North, and Tenerife South Airports are the main airports serving these islands. Las Palmas is the largest city on the islands and has a 4 km long beach and many historical landmarks. Tenerife is the most visited island and has beautiful beaches along with a world heritage city, La Laguna. Fuerteventura is popular island known for its great surfing opportunities.

From beaches, sea view, colonial landmarks to delicious cuisine, there is so much to do and see for tourists looking for a perfect holiday. We suggest a rental car to make your stay more convenient, when exploring one corner of the island to another, driving across it beaches and local attractions. Book now!