Car Rental Lanzarote Airport (ACE)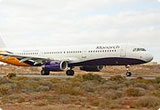 Lanzarote Airport is likewise known as Arrecife airport and is situated at San bartolome, Las Palmas. It is a busy airport that caters to passengers within the Canary Islands or Mainland Spain. If you are arriving at the Lanzarote Airport we recommend that you get a car rental because it can make your traveling in and around the island easier and more comfortable. With a VIPcars.com booking online it is fast and easy plus you enjoy lowest prices.

From Lanzarote Airport you can drive to Gran Melia Salinas which is just near the airport. After freshening up you can begin your tour of the island by checking out the following sites: Agricola Museum is the best way to start your tour so that you can get a better appreciation of early life here. Don't miss driving by the many Lanzarote beaches.