Car Rental Caleta De Fuste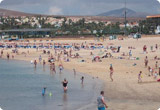 Caleta de Fuste also known as El Castillo or Costa Caleta is situated in Las Palmas, Spain in Fuerteventura in the Canary Islands. It is the largest known community of Antigua and is only 10km from the island's airport. Because it is a part of the Canary Islands, it has the traditional natural beauty that the islands boast as well as being a major tourist attraction for the country of Spain.

It has numerous hotels, stores, restaurants, bars and cafés that are all relatively near the paradise beach. Scuba divers can enjoy the waters because Caleta de Fuste is famous for having abundant dolphins and turtles. It also has wonderful surfing spots and other water sports.

Hire a car that you can drive around the island to make the most out of your stay!