Car Rental Tenerife Playa De Santia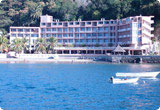 Sprawling across 785 sq mi, Tenerife is the largest island of the archipelago of Canary Islands. With annual tourist arrivals estimated to be around 5 million, Tenerife ranks among the world's most visited places. While yearlong temperate climate plays an instrumental role in attracting tourists, you can't expect to miss a trip to worth seeing attractions such as, monuments, historical landmarks, museums, market squares, and wildlife reserves, which are hailed as a true epitome of biological diversity. All you need is a stylish car that lets you explore the region as per your own convenience.

Book a rental car from VIP Cars in just three mouse clicks! We offer inclusion rich Tenerife Playa De Santia car rental deals at very competitive tariffs.