Car Rental Tenerife Airport North (TFN)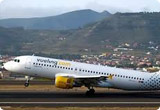 Tenerife Airport North is formerly known as Los Rodeos Airport. Tenerife Airport North is situated in San Cristobal de La Laguna and is one of the two major international airports of Tenerife Island. Tenerife Airport North is 11 kms away from Santa Cruz thus for you to have a headache free transport better get a car rental. With your very own car you can get to places you want within Tenerife fast, easy and comfortable. Just make an online booking at VIPcars.com which is quick and easy.

For a long winding ride on mountain roads and scenic views of the coast, better head to the Masca Village. There are two parks within the area like Siam Parque and LoroParque Zoo which are water parks and Animal Park respectively. Another must check is the Punta de Teno with its impressive views of the island. Lastly check out the botanical garden just near Puerto de la Cruz.