Car Rental Costa Calma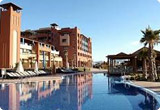 A well-known holiday resort, Costa Calma which is Spanish for "calm coast" is a village in the island of Fuerteventura of the Canary Islands. The exact location is the southern end of the island. As with all Canary Islands, the village is gifted with nature's beauty and can gather plenty of tourists every year.

Costa Calma has created plenty of famous hotels and restaurants because of its natural allure and charming hospitality. The economy thrives from the tourists that visit the place, most especially the pristine beaches. There are also many endangered species of flora and fauna which many people would like to have a glimpse of. One of the beaches there is the Playa Sotavento which stretches for about 50 km.

Find cheapest car rental deals for Costa Calma now!