Car Rental Atocha Train Station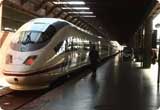 One of the major railway complexes located in the vicinity of Plaza del Emperador Carlos V. Ranked among one of the widely used railway terminuses of Spain, Atocha Train Station handles around 45 million passengers every year. The train station is served by three major rail services namely, high speed, middle distance, and long distance. While Alaris, Altaria, Alvia, Talgo are long distance train services, AVE Avant and R-2, R-6, R-7, R-8, R-10, are high speed and middle distance train services respectively. Also a major car rental pick-up and drop-off location, Atocha Train Station is served by Gold Car, Sixt, Alamo, Automotive Cars, Europcar, and Solmar Rent a Car, our leading alliance partners.

Avail a negotiated Atocha Train Station car rental deal inclusive of numerous supplier inclusions, from VIP Cars now!