Cheap Car Rentals at Madrid Barajas Airport (MAD), Spain
| | |
| --- | --- |
| Minimum age to rent a car at Madrid Barajas Airport, Spain: | 21 years |
| What Do You Need to Rent a Car at Madrid Barajas Airport, Spain | – Driver's License, an ID, and a Credit Card |
| Minimum Madrid Barajas Airport car rental duration: | 1 day |
Whether looking for a cheap car hire for pickup at Madrid Barajas Airport Terminal 1 or 4, on VIP Cars you can accomplish that within minutes and that too at a price that suits your budget.
On our booking engine, you get access to a variety of car rental deals for Madrid Barajas Airport– long-term car rentals, weekend as well as short-term rentals – that you can compare at one place; however it is advised that to find the cheapest deal, if possible, always rent a car for a longer duration of time and as much in advance as possible.
Car Rental Tips & Booking Advice
There are a great many autopistas around the airport, so if you are not familiar with the area, it is better to rent a GPS with your car hire booking.
Fill in the search form and compare the deals by using the filters that appear on the second booking step. Available filters: price, suppliers, car categories, fuel-types and transmission modes.
Minis and economy cars are best for travelers who are planning to visit only the city locations as they are best for city travel.
Car Rental Companies at Madrid Barajas Airport [MAD]
One of the important international airports of Spain, Madrid Barajas Airport primarily serves the city of Madrid. Located about 6 miles away from Madrid's Financial District, the airport is named after the district of Barajas. A major car rental pick-up and drop-off location, the aerodrome is well served by our alliance partners listed as follows:
Ace
Alamo
Firefly
Enterprise
Goldcar
Europcar
Sixt
National
Popular Car Rental Types at Adolfo Suárez Madrid Barajas Airport
With VIPCars, you can book from a large fleet of rental vehicles at Madrid Barajas Airport. Some of the most popular Madrid Barajas Airport car rental categories are as follows:
Luxury Car Rentals
Economy Car Rentals
SUVs
Vans/Minivans Rentals
Convertible Car Rentals
Location of the car rental desks at Madrid Barajas Airport:
The car hire desks at the airport are located in Terminals 1 and 4, on Floors 0 and 1 respectively.
Pick-up Help
How to reach the car rental desks from different airport terminals?
Terminal 4 to 4S & vice-versa: Automatic People Mover Train
Low Cost Park to Terminal 1, 2 & 3: Bus – this service is free for Low-cost car park customers.
Terminal 1 to Terminal 4 & Vice-versa: Shuttle Bus – it covers T2 while going from T1 to T4, and both T2 & T3 while returning from T4 to T1.
Low Cost Car Park to Terminal 4: Microbus
Long-stay Car Park to Terminal 1, 2 & 3: Microbus
Madrid Airport
Car Rental Return Advice
When refuelling your rental car before the return, make sure that you are keeping the fuel receipts for the future reference; sometimes even the supplier's representative at the rental desk asks for them.
Make sure that the representative has signed the car report form at the time of return. Check the report form, if it doesn't have a specific marked-area to indicate the gas level, ask the representative to mention on the signed copy that the tank is full.
Rental Car Drop-off Locations near Madrid Airport & One-Way Option
With VIPCars and partners, travelers can return their rental cars – picked at Madrid airport – anywhere in Spain. The travelers who drop-off their rental cars at the airport do not have to pay the one-way fee, but other travelers are charged a fee which is then added to their final bill. Travelers can access the full list of locations that we cover in Spain on our search form; just use the 'Different Drop-off Location?" section.
In the Madrid City you can request pick-up & drop-off at a lot of locations, some of which are listed below:
Atocha Train Station

Distance : 15.8 km

Chamartin Train Station

Distance :10.8 km

Las Rozas Downtown

Distance :30.5 km

Madrid Arguelles

Distance :14.5 Km

Madrid Arturo Soria

Distance : 10.4 Km

Madrid Malasana

Distance :21.9 Km

Madrid Pinto

Distance : 30.5 Km

Madrid Pueblo Barajas

Distance :2.5 Km
Cross-Border Option is available with our car rentals for MAD Airport
Many of our car rental suppliers allow cross border travel, for instance, Firefly allows the renters to take their cars into Andorra, France, Gibraltar, and Portugal, while Europcar allows cross-bordering to only European countries & even on that there are exception like Ukraine, Hungary etc. These suppliers also impose restrictions on the basis of car category that you are booking. Therefore it is advised that you either read the T&Cs or contact us or the supplier for the accurate information about 'whether the country you are planning to take the rental car on a cross-border trip is allowed or not'.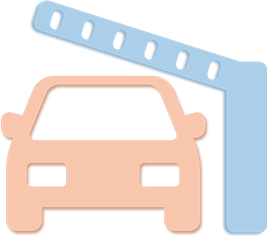 Guide to Madrid Barajas Airport
An exclusive civilian aerodrome facility, Madrid Barajas Airport is a hub for three major airlines namely, Iberia, Air Europa, and Iberia Express. Famous as Spain's gateway to the Iberian Peninsula, the airport is considered a vital link between Europe and Latin America. With annual passenger count pegged at more than 50 million, Madrid Barajas Airport ranks among world's busiest airports.
| | |
| --- | --- |
| Address: | Madrid Barajas Airport, Av de la Hispanidad, s/n, 28042 Madrid, Spain |
| IATA Code: | MAD |
Shops in Madrid Barajas Airport
Parfois
It offers a big range of things for women – from wallets to shoes, hats, jewelry and accessories.
Relay
Relay keeps in stock Newspapers from almost all nations, plus things like stationary, batteries, and sweets.
Salvatore Ferragamo
At this store travelers can buy shoes, accessories and bags from Salvatore Ferragamo's exclusive collection.
Real Madrid tienda official
Here travelers can buy 'Real Madrid' inspired items, boots, and accessories. It also showcases the official strip of the original team.
Sibarium
Food or artisan products - Sibarium is the place where you buy the better of 'these two worlds'.
Samsonite
Samsonite – one of the biggest luggage manufacturers in the world – is a great place to buy some of the most durable products.
Eateries at Madrid Airport
Eat
Sandwiches, snacks, pastries and coffee, Eat is a renowned fast food chains in the World.
Eat & Fly
It is a great place to buy fresh sandwiches, salads and cakes.
Eating Point
Smoothies, coffee and fruits are some of the menu highlights at 'Eating Point'.
EspacEvian
From sandwiches to herbal teas, fruits and soups, EspacEvian offers varied options through its menu.
Espression Lavazza
At Espression Lavazza, you can taste from a big variety of Coffee blends, and other variety of small tasty treats.
Fly & Fishhh!
This place is best known for variety of Sushi, salmon, filled rolls and squid.
Lounges at Madrid Airport
Sala VIP Puerta De Alcala
Premium Traveller Arrivals Lounge
Neptuno Lounge (AENA VIP Lounge)
FAQs - Madrid Barajas Airport
You would need to be at least 21 years old to rent a car at Madrid Barajas Airport. Although some car rental suppliers in Spain might ask for an additional charge if you are below the age of 25.
You would need a valid driver's license, a credit card in the main driver's name, and proof of identification for renting a car at Madrid Barajas Airport. An International Driving Permit is also needed if your driver's license is not in the Latin alphabet.
Economy car rental type is the most popular at Madrid Barajas Airport.