Car Rental Malaga Train Station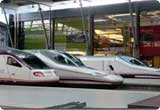 One of the major railway stations of the Malaga city, Malaga Train Station is located within the autonomous community of Andalusia. With more than 5,000 commuters boarding or de-boarding from its platforms, the train station ranks among Spain's busiest railway terminuses. VIP Cars, a specialized provider of economical commuting solutions, offers Malaga Train Station car rental deals through Gold Car, Sixt, Europcar, Alamo, and Solmar Rent a Car.

Guide to Malaga Train Station
Operated by RENFE, the country's largest train services operator, Malaga Train Station is served by AVE, Avant, Alaris, Star, and MD train services. Located just 1 mile away from the Port of Malaga and 5 miles away from Pablo Ruiz del Sol's Airport, the railway terminus derived its name from Maria Zambrano.
Feel free to call our customer care representative in case you have any other query regarding Malaga Train Station car rental reservation.