Car Rental Antalya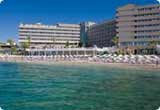 Situated on the Mediterranean coast, Antalya is one of the picturesque cities of southwestern Turkey. Located approximately 334 miles and 453 miles away from Ankara and Istanbul respectively, Antalya is well connected by number of motorways. You can also pick-up a rental car from Antalya Airport, which is located about just 9 miles away from the city center.
Guide to Antalya
With city's expansive 547 sq mi of land area comprising of numerous worth seeing attractions such as, shopping avenues, monuments, beaches, and museums, a traveler essentially requires a quirky car to drive around. At VIP Cars, we understand your requirements and hence provide you with a car of your choice, along with an affordable Antalya car rental deal that comes bundled with range of supplier inclusions and taxes.
Your search for cheap Antalya car rental deal has driven you to a right place!