Rent a Car at Antalya Airport (AYT) and
Save Big on Your Next Trip to Turkey!
Looking for a cheap car rental for Antalya Airport (AYT)? Run a search on VIPCars, and get hold of an affordable deal within minutes. Booking a car hire with VIPCars is quiet easy – our booking process consists of three easy steps – Search, Compare and book! All you have to do is fill the fields given on our search form and click on 'Search'. After that, all the suitable deals will be made available on the booking process' second-page where you can compare them by using the filters given in the left pane of the screen. 'Select' the deal which suits your needs and book by paying a small amount through our secure payment methods!
In addition to online booking, you can also rent a car for Antalya Airport by calling our given helpline number for Turkey. Besides this you can also make a booking by contacting us via our email - support@vipcars.com - and contact form. We also provide live chat where you can request any help; through this feature not only can you make a booking, you can also get answers to your car rental queries. Hire a car for Antalya Airport from VIP Cars today and make a beeline for a great traveling experience in Turkey!!
Car categories Available for Renting at AYT Airport
Here is a list of car categories that you can expect to find while searching for your Antalya Airport car hire at our booking engine.
Economy

Van

SUV's

Compact

Fullsize

Luxury Cars
This list is not final; it can change with time as per the availability on the suppliers' end.
Companies We Work with at Antalya Airport (AYT)
The following car rental suppliers provide car hire deals at AYT Airport
About 9 car rental companies have their desks within the Airport's terminals. The agencies listed above are VIPCars' partners which have their offices at AYT; other suppliers like Essence Car Rental, First Rent a Car, and Circular car hire provide meet and greet service.
Extras that you can Add to your Antalya Airport Car Rental
While renting a car for Antalya Airport, you can also add extras to your deal by paying a small per day rate for the add-on. The add-ons that you will see at the final stage of your booking depends on the availability on the supplier's end, therefore the list provided in this section is a tentative one, it covers only the most common extras that are made available by our suppliers, they might not be available with every supplier.
Child Seat
Winter Tires
Navigation System - GPS
An Additional Driver
Wifi Device
Antalya Airport Car Rental - Drop-Off Locations within the City
After picking your rental car at Antalya Airport, if you want to drop the vehicle at some other location in Antalya, don't stress, almost all of our suppliers allow one-way rental within the city. The following is a list of drop-off locations in Antalya where you can return your AYT Airport car rental
Antalya Downtown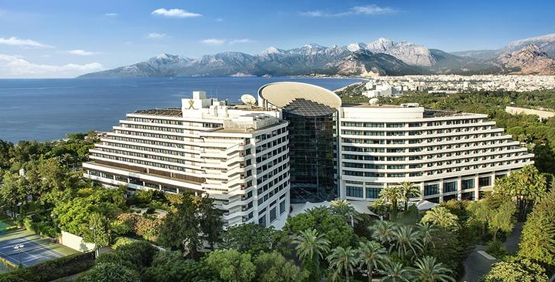 Distance: 13 km from AYT Airport
Best Route: Serik Cd./D400
Antalya Hotels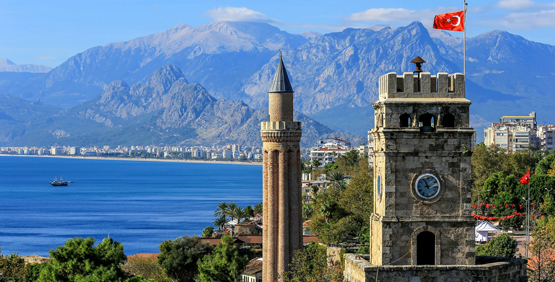 Distance: 11 Km from AYT
Best Route: via Serik Cd./D400
Belek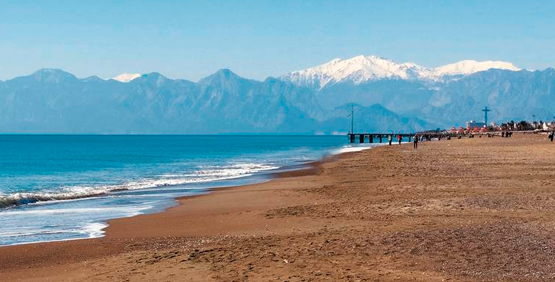 Distance: 35 km from AYT Airport
Best Route: D400
Lara Beach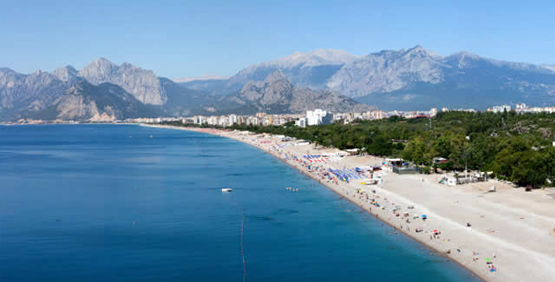 Distance: 11.4 km from AYT Airport
Best Route: Havaalanı-Lara Yolu
In case you want to return the car in another Turkish city, it is also possible as almost all major cities and airport are covered by our suppliers. All you have to do is click the 'yes' option given with 'Different Drop-off Location?' section in our search form, and select the Turkish city and the location where you want to return the car. In case you want to take your Antalya Airport car hire on cross border trip, have a word with our booking support experts for better guidance. For both these services, supplier charge one-way and cross-border fees that the renter pays at the time of pickup. These charges vary from supplier to supplier and also depend on the car category you are renting.
Petrol Stations near Antalya Airport
Suppliers usually offer different fuel policies, if you have chosen the full-full fuel policy, at the time of drop-off, you will be liable to return your car with a full tank. Here are some of the petrol stations which are located in close proximity to the airport:
Bp-kepezler Petrol
Distance: It is located 3.4 kilometers from Antalya airport via Havaalanı-Lara Yolu route
BP
Distance: It is located 5 kilometers from Antalya Airport via Havaalanı-Lara Yolu route
Büyükgebiz BP Petrol Station
Distance: It is located 2.4 kilometers from Antalya Airport via Havaalanı-Lara Yolu route
Antalya Airport – Brief Overview
Located on the country's Mediterranean coast, AYT is an International airport which consists of three terminals out of which 2 are dedicated to the international flights, and the third one serves the domestic traffic. Serving the city of Antalya – located 8 miles from the airport, 249miles and 430 miles away from Ankara and Istanbul respectively – AYT is the 3rd busiest airport in Turkey and the 13th busiest in Europe, as per 2016 statistics.
While Sun Express, Corendon Airlines, Freebird Airlines, and Pegasus Airlines utilize Antalya Airport as their operational hub, there are plenty of other air carriers that offer direct flight connectivity to several destinations across the globe.
| | |
| --- | --- |
| Address: | Antalya Havaalanı Dış Hatlar Terminali 1, 07230 Muratpaşa/Antalya, Turkey |
| IATA Code: | AYT |
Antalya Airport Facilities
Operated by ICF Airports, Antalya Airport offers various facilities like free Wifi, lounges, Medical rooms, Prayer rooms, and Smoking area etc. Medical services at the airport are provided by qualified doctors who are competent enough to deal with all kinds of emergencies. Free Wifi provided by TTNET internet service providers can be accessed by the passengers at the arrival as well as departure halls, and Prayer rooms are open to all, irrespective of religion.
When talking about shopping, Antalya Airport has several Duty-free stores and noted shopping outlets by brands like Master of Time, Atelier, Turkish I.D, Style Studio etc; it also has shops for Toys & Sweets in case kids are in tow, or you want to shop for a child. Antalya Airport has a lounge named CIP lounge, which offers numerous services like flight and airport formalities so that the passengers can have the best experience without any compromise when it comes to their privacy and comfort level.
Eligibility Conditions to rent a car at AYT Airport
Driver's License
Suspended or temporary driving license is not accepted, you need to have a full, valid driver's license to rent a cat at Antalya Airport, and most of the suppliers ask for at least a year driving experience, and make it 2 if you are going to rent an expensive car.
Passport
In case your driver's license is not a photo ID one, as a proof of your identity, do carry your passport (or its copy) or any other government-identified identity proof.
A Valid Credit Card
Most of the car rental companies ask for a valid credit card – issued in your name – as the mean of payment; debit cards are usually not entertained. In case you are going to rent a luxury car, it is possible that the car rental company might ask for a second credit card.
Minimum age requirement
Though every supplier puts forth its own minimum age requirements, generally, you can rent a car if you are 21 years old. However, for more expensive models, you may need to be at least 27 years old.
Note: It is advised that all car rental drivers should keep their original license, passport, car rental agreement and insurance documents with them while driving on Turkey's roads. This is so because unlike other countries like the UK where one is allowed to provide the documents in the next 7 days, in Turkey, there are no such "7 days to produce" provisions. In Turkey, if you are stopped and you fail to produce these documents, there will be on the spot fines which you will have to bear.
Hence, do carry the documents and the rental car agreement in the vehicle with you when driving; you'll be given the relevant documents in a small plastic folder by the supplier's representative at the time of pickup.
Places to See in Antalya
Renting a car has its many perks, and one of them is that it allows you to explore a new place at your own pace, without any hassles, and gives you the control of how you want to proceed with your journey. Here are a few places in Antalya, which you can visit as per your plan in your Antalya Airport car rental. And, since some visitors might want to explore the place over a layover, we have made sure that the listed places are located close to the airport.
Archaeological Museum

Termessos

Aspendos and Perge

Phaselis

Side

Olympos and Cirali

Chimaera
Antalya Airport Car Rental Frequently Asked Questions
What to do in the Case of an Accident?

First of all, in the case of a car accident or theft, make sure that you report the incident to the local police or the Local Military Gendarmerie. This is because, in any kind of incident, it is these authorities which can complete the accident report for you. For insurance purposes, you will have to submit this report of the incident and the circumstances under which it occurred, to the car rental company so that they can claim the damages to the insurance company.

In absence of a report – certified by the nearest local authority – the cost of the damages will have to be paid by the renter of the car.

Should I rent a diesel or petrol fuel type for Antalya Airport?

Since petrol prices are skyrocketing high in Turkey, it is advised that you should go for a diesel vehicle while booking your Antalya Airport car rental. But that doesn't mean that renting a petrol vehicle will be totally a bad idea, if you are traveling alone or with a small group, you can cut on fuel expenses by renting a small economy car like a Ford fiesta, or something similar as these cars are pretty good when it comes to fuel efficiency.

Do I need an IDP to rent a car at Antalya Airport?

Travelers of different nationalities can rent cars throughout Turkey as one doesn't need an International driver's license to rent a car at Antalya Airport. All one needs is a valid national license issued by your country.