Car Rental Fort Myers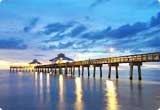 Established in 1886 and is the historical centre of Lee Country, Fort Myers was one of the first forts built along the Caloosahatchee River. It has a warm climate all year round, and its climate is influenced by the monsoons. In the southwest area of Florida, it is the gateway to the ever-popular tourist areas.

Seminole Lodge, a former home of Thomas Edison, and The Mangoes, a former home of Henry Ford, are major key local attractions in Fort Myers. Other attractions include a planetarium, museums, the home of the Boston Red Sox spring training program, Murphy-Burroughs House, and the historic downtown area. Wandering around, some places may seem familiar; this is likely to be because several movie scenes have been filmed in Fort Myers, including Day of the Dead, Trans and Just Cause.

VIP Cars gives you access to top deals from suppliers in Fort Myers. Call now to book your rental!