Car Rental West Palm Beach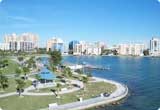 West Palm Beach is a city in the state of Florida. There are several historic districts that many visitors find interesting. The Bel Air Historic District was developed between 1925 and 1935 for tradesmen and real estate brokers. Some of the area was, however, a pineapple plantation, and some of the original structures remain today. In the El Cid area one can see many Mediterranean style buildings.

The lovely Flamingo Park area was originally another pineapple plantation. Another area with a fruity connection is the Mango Promenade area. Many prestigious buildings line the riverfront areas. Parks and lakes make for a great break from city life. There are museums and art galleries in the city, as well as a quaint theatre, and a large convention centre.
Get cheapest rental deals for exploring West Palm Beach and other cities and suburbs of Florida on your own. Call our booking team now!