Car Rental Bosanska Gradiska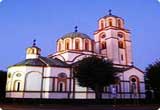 Bosanska Gradiska also called as Gradiska for short is a municipality and town situated in the country of Bosnia and Herzegovina. Located on the northwest portion of the country, right beside the Sava River and on the plains of Lijevce.

In order to roam around the city and its neighboring sights and things to do, you must rent a car from VIP cars. We offer an all-inclusive package deal that includes third party insurance, collision damage, vehicle thefts and even local VAT and road taxes.

One of the sights to visit within Bosanska Gradiska Town is its Serbian Orthodox Church that showcases three spiral turrets. Many tourists come to the town to enjoy snow sports like skiing, snowboarding and even mountain hiking. So if you are interested, you can check out Vellika ski resort which offers trails for beginners and intermediate skiers.