Car Rental Cebu Downtown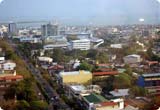 You can't have actually visited a place until you see its downtown area. So if you are going to Cebu, don't miss out on Cebu Downtown. It is the center of all economics, education, tourism and all the fun. Cebu Downtown will thrill you with its exciting hustle bustle. There are plenty of places where you can shop and indulge in fine dining. Take your kids to the amusement parks and teach them the historical significance of this old city while visiting the many ancient sites. And do this all at your own luxury.

VIP Cars gives you the facility of renting top quality cars at inexpensive rates that will allow you to go anywhere you like. We are working with all the famous brands of car rentals so we can get you any car that you need.