Car Rental San Fernando Downtown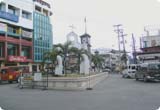 San Fernando is an exotic city in the province of Pampanga in Philippines. The most attractive aspect of the city is the giant lanterns that you will see suspended throughout the city. The city inspires a unique charm. That's why it never fails to strike a chord with anyone.

The area most visited by tourists in the city is the downtown. This is where all the cultural festivals are hosted. Some of the most visited sites are located here. This includes the Archdiocesan Museum and Archives, Church Of San Vicente Ferrer and Heritage Houses like Pampanga Hotel and Consunji House.

There are virtually endless sites that are a must-visit in the area. However, without personal conveyance, it can be exceedingly difficult to see everything in the limited time you will spend in San Fernando. The solution is to hire a car from VIP Cars. With our friendly relations with top suppliers, we strive to offer best of rental deals to travelers seeking access to low priced car rentals.