Car Rental Manila Airport [MNL]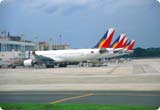 Located only a short distance away from the city's center, Manila Airport is a leading air facility. The airport authorities establish utmost convenience and leave no stones unturned in pursuing excellent customer service.
Manila Airport ensure vacationers and holiday-makers not only high-quality security but excellent customer service as well. The facility has contributed a lot to make Manila the ultimate destination for tourists coming from across the globe. Manila Airport is only a short distance away from must-visit sites such as, Butterfly Pavilion, The Chess Plaza, Quirino Grandstand and Plaza San Luis.

VIP Cars gives you easy to book rental platform allowing you access to cheapest deals for Manila Airport.