Car Rental Davao International Airport [DVO]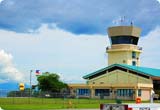 Davao International Airport is also known as the Francisco Bangoy International Airport. It is the main airport of the Davao city and is known to be the busiest airport of the island of Mindanao. The airport has been recently modernized with the aim to make Davao more tourism friendly. The airport now has the capacity to handle around two million passengers and 84,600 tons of cargo on an annual basis. The airport also incorporates the latest navigational, baggage handling and security equipment.

The airport terminal is highly computerized, and is designed in a way to keep the flow of passengers steady. Its architecture is Malay inspired. It has 14 international and 14 domestic check-in counters with electronic weighing scales and conveyors which make the check-in system faster.

To take a tour of the city and visit some scenic sights, rent a car of your choice with VIP Cars. Pick up your car from Davao International Airport.