Car Rental Subic Downtown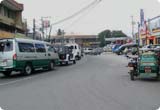 In Subic Downtown, you will find various hotels. In addition to that, Subic wildlife is what attracts animal lovers all around the world to this place. The Zoobic safari is considered to be one of the top maintained zoos of the world. You will find various creatures here, roaming around in their natural habitat, ranging from mild little rodents to large and fierce creatures like tigers.

Besides exploration, you can shop around in the malls for hardware, gold, books and clothes. Thus, in this city located near the sea, you will get exposure to every genre of life.

We let you rent a car at Subic Downtown at most affordable prices in just 3 easy steps. Select Subic Downtown as your location, search your car and book securely. All deals are inclusive of inclusions like insurances and local taxes.